From 31 October to 12 November the eyes of the world will be on Glasgow for the 26th United Nations Climate Change Conference – COP26.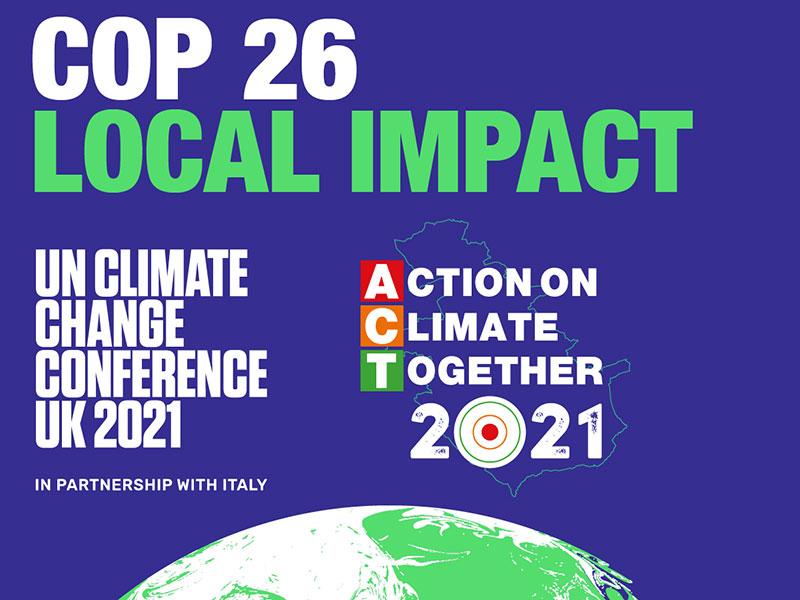 The event will have a significant impact on life in the city and on travel in Glasgow and surrounding areas. The Get Ready Glasgow website provides up-to-date information on traffic and travel, local services, safety and security, as well as how to get involved.
What do we mean by climate change?
The earth has a natural system called the greenhouse effect which enables it to be habitable by trapping in the sun's heat. Climate change is the impact human activity has on this system - causing an increase in greenhouse gas emissions and destabilising the balance of this fragile system.
As the temperature of the atmosphere has increased, we've seen more rainfall, a decline in glaciers, warming and acidification of our oceans, rising sea levels, a shift in climate zones and a worldwide surface temperature increase.
What are we doing to address climate change?
In June 2019 the council declared a climate emergency and set a net zero target of 2030. Each service is contributing to our action plan to achieve this and are setting up thematic climate change groups to drive forward the work across the council.
We have been working to reduce the volume of greenhouse gases emitted from our buildings, transport and waste since 2018/19. This year our carbon footprint has reduced by over 56,000 carbon tonnes (48%) from the baseline year set in 2015/16 and we have met the first in a series of annual carbon budgets.
Ahead of COP26 we have delivered a programme of events aimed at raising awareness of our local target of net zero by 2030 as well as encouraging climate action by individuals, organisations, business and schools.
Find out more about our work in our Climate Plan – Action on Climate Together 2030.
What's next?
Some of the initiatives underway or planned that will contribute to reducing our carbon footprint and achieving net zero are:
As well as using more electric cars, all light commercial vehicles will be replaced as we move incrementally to an entire electric fleet by 2027/28.
Our Active Travel Strategy encourages people to walk, cycle or wheel as well as improving access to public transport. Cycle stands have been installed across the area to make it easier for people to use their bikes.
The Clyde Valley Residual Waste project is delivering long-term, sustainable management of 190,000 tonnes of residual household waste annually, including producing renewable energy.
Our council house building programme uses energy efficiency measures which see over 99% of our new build homes achieve a 'B' Energy Efficiency Rating and over 90% achieve a 'B' EPC CO2 Rating.
A Youth Climate Ambassador Group has been set up with members, aged 13-18, collaborating to undertake community-based environment action. Their first project was to produce a short film, Dear World Leader, and host a local screening as part of the Youth Climate Film Project.
Primary 7 pupils will help to plant two new woodlands at Strathclyde Country Park, Motherwell and Palacerigg Country Park, Cumbernauld with a further 20,000 native trees will be planted at Low Wood, Cumbernauld and Calderbank, near Airdrie.  
What can I do to help tackle climate change?
Some tips for small changes we all, as individuals, can make to lead a more sustainable life and protect the environment.