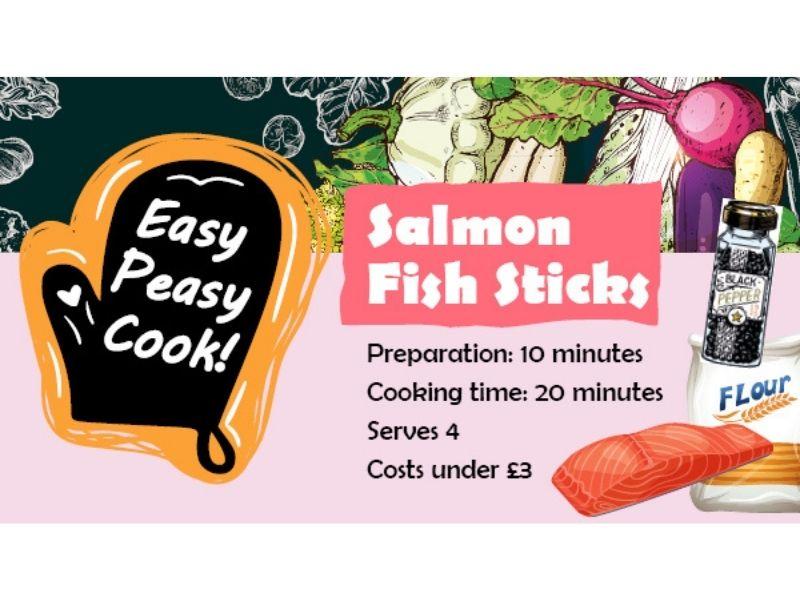 Preparation: 10 minutes

Cooking: 20 minutes

Serves 4, costs under £3
2 salmon fillets (250g) (frozen or fresh)

2 tablespoons plain flour (60g)

1 pinch black pepper

2 egg whites

2 tablespoons grated parmesan cheese (20g)

4 tablespoons breadcrumbs (60g)

1 tablespoon low fat mayonnaise (33g)

1 tablespoon low fat plain yoghurt (40g) 

1 teaspoon mustard (40g) 

1 teaspoon chopped parsley (1g) (optional)
Allergy disclaimer: Always check the label of each ingredient for allergen information.
Preheat the oven to 200°C / 180°C fan oven / 400°F / gas mark 6.  Using kitchen roll or fingers coat a baking tray with vegetable oil.

If using frozen fish make sure it is defrosted before use.

Rinse the salmon gently and pat dry with kitchen towel. Using a sharp knife cut the fish into approximately 10 cm strips.

Place the flour and pepper in a bowl. In another bowl crack each egg being careful to keep the yolks in the shell (these are not required). Beat the egg whites with a whisk or fork until frothy. In a third bowl mix the cheese and breadcrumbs together.

Coat each salmon strip in flour, pat to remove excess then dip in the egg and finally coat in breadcrumb mix.

Place the sticks in the baking tray. Bake in the oven for around 15-20 minutes until golden brown.

While the fish sticks are cooking make the dip by mixing the mayonnaise, yoghurt, mustard and herbs (if using) in a small bowl.
Top tip: Kids will enjoy coating the fish. Try a mixture of white fish and salmon sticks if they aren't used to eating salmon.
Top tip: Fish sticks & dip can both be made in advance and kept in the fridge. Cook strips when ready.