SMARTways aims to promote walking, cycling, public transport, car sharing and healthy activities within North Lanarkshire in line with the Scottish Government's Greener Scotland campaign.
SMARTways also introduces North Lanarkshire to 'travel plans' and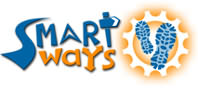 explains how these can benefit the health and wealth of residents, school, colleges and businesses. Travel plans can also help in protecting the environment for future generations to enjoy by reducing the volume of traffic using our roads.
SMARTways is not anti-car. The car is an essential part of everyday life. SMARTways aims to reduce the number of single-occupancy journeys and this can be achieved by car-sharing or using other methods for your journey.
Help us keep our routes attractive for users. If you find a fault on one of our roads or footpaths, let us know.
Cycling and Walking routes are shown on the SMARTways map below.