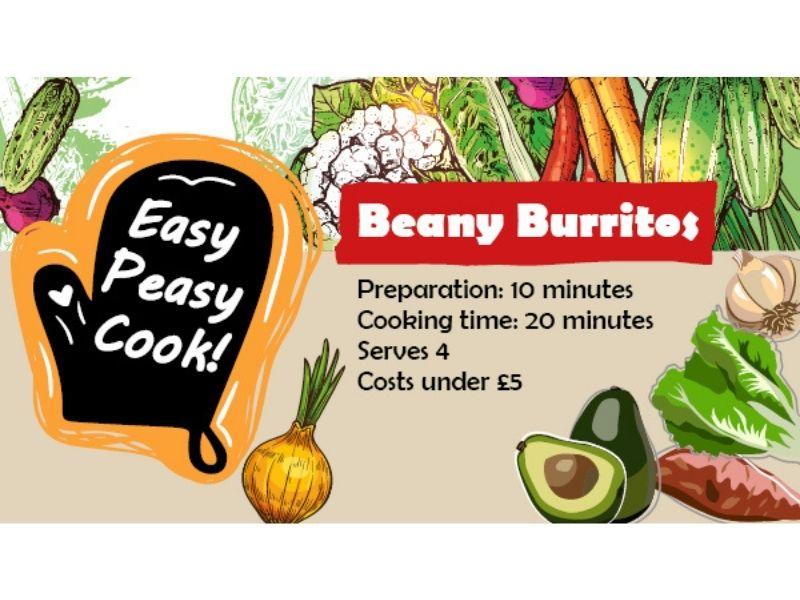 Preparation: 10 minutes

Cooking: 20 minutes

Serves 4, costs under £5
2 sweet potatoes 

2 tablespoons vegetable oil (20g)

1 pinch ground black pepper (1g)

1 onion (medium sized)

1 garlic clove 

1 can mixed beans (400g)

4 tomatoes

4 leaves lettuce

1 avocado

4 wheat tortillas

½ tub reduced fat crème fraiche (100g)

4 tablespoons grated reduced fat mature cheddar (40g)
Allergy disclaimer: Always check the label of each ingredient for allergen information.
Set the oven to 180°C / 160°C fan oven / 350°F / gas mark 4. 

Wash the sweet potatoes and cut into wedges the size of orange segments. 

Place the sweet potatoes on a baking tray and drizzle with 1 tablespoon of oil and sprinkle with some black pepper. Roast in the oven for about 20 minutes, until they are soft.

Whilst the sweet potatoes are roasting, peel and chop the onion and garlic. 

Heat 1 tablespoon of oil in a pan and fry the onion and garlic gently until soft.

Drain the beans and stir into the pan, mashing the beans slightly as you do so. Cook for 4-5 minutes until heated through.

Wash and slice the tomatoes and wash and shred the lettuce. Grate the cheese.

Cut the avocado in half lengthwise around the stone. Hold the avocado in one hand, and with the other hand twist and rotate the two halves apart. Remove the stone by slipping a spoon between the stone and the flesh, then slice up the flesh into strips. 

Warm the tortilla wraps in the oven for 2-3 minutes.

Assemble the wraps by putting some of the bean mixture in the middle, followed by lettuce, tomato, avocado slices, crème fraiche and cheese. Fold the bottom of the wrap up, then fold the sides in to enclose the filling.  

Serve the beany burritos hot with the sweet potato wedges.  


 
Top tip: Buy the cheese already grated.
Top tip: Kids can help making up the wraps.