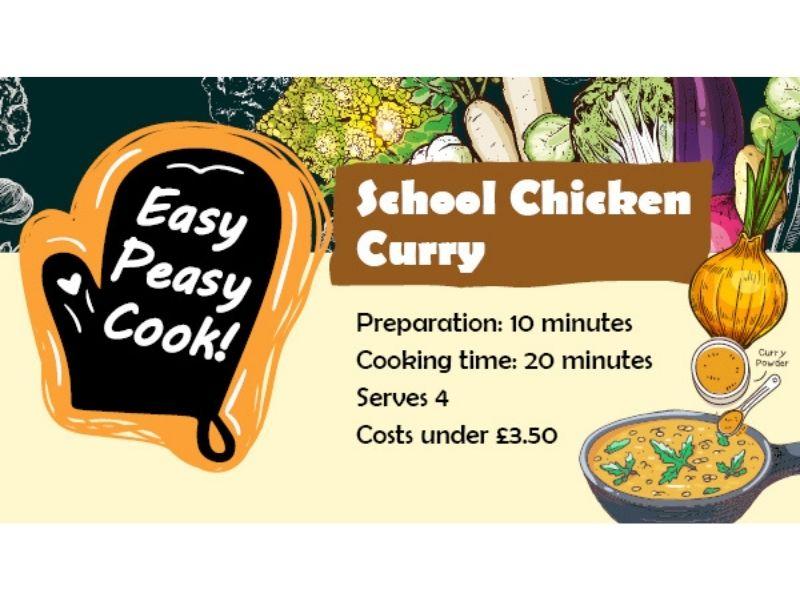 Preparation: 10 minutes

Cooking time: 20 minutes

Serves 4, costs under £3.50
1 large onion

1 ½ tablespoons curry powder

3 teaspoons turmeric

1 chicken stock cube

1 litre of boiling water

1 tablespoon vegetable oil

1 teaspoon garlic puree or 1 garlic clove

cornflour to thicken

400g chicken breasts

200g uncooked long grain rice
Allergy disclaimer: Always check the label of each ingredient for allergen information.
Cook rice as per the instructions on the packet.

Add oil, diced onions and garlic to a pot and gently fry. Mix in turmeric and curry powder and cook for a few minutes.

Add 400g of diced chicken and cook for 5 minutes to seal the chicken.

Dissolve the stock cube in 500ml of water and add to the pot.

Cook for 10 mins add the remainder of water and simmer for 5 minutes.

Add a little water to 3 tablespoon of cornflour to make a paste. Add to the sauce and stir to thicken. Repeat until you achieve your desired thickness and season to taste.