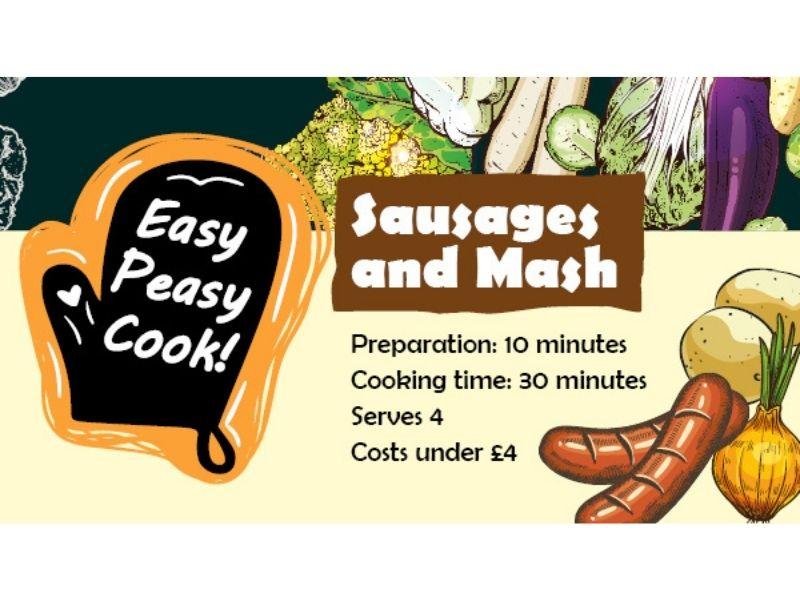 Preparation: 10 minutes

Cooking: 30 minutes

Serves 4, costs under £4
8 pork sausages

2 onions (medium sized)

½ teaspoon mixed herbs (1g)

½ teaspoon mustard (4g)

1 vegetable stock cube

1 pint water (600ml)

1 pinch ground black pepper (1g)

1 tablespoon vegetable oil (10g)

2 teaspoons plain flour (14g) (level spoonful)

10 potatoes (medium sized)

5 teaspoons spread (25g)

300g frozen green peas
Allergy disclaimer: Always check the label of each ingredient for allergen information.
Sausages and onion gravy:
Heat the oil in a frying pan. Add the sausages to the pan and fry for 10 minutes, turning occasionally.

Peel and slice the onions and add to the pan once the sausages are golden brown on all sides.

Crumble the stock cube into the boiling water and add the dried herbs and mustard. Mix well.

Add the stock to the pan, leaving a small amount of stock to mix with the flour. Mix the flour and stock into a paste.

Bring the stock to the boil and simmer gently for 2-3 minutes. Add the paste and stir with a fork or whisk until the gravy has thickened. Add black pepper to taste. 
Mash and peas:
Peel the potatoes and chop them into small cubes.

Boil the potatoes in a pan of boiling water until they are tender.

Drain the potatoes and mash with the spread with a fork or masher. Add black pepper to taste.

Cook the peas in a saucepan of boiling water for 2-3 minutes.

Serve the sausages, mash and peas with onion gravy poured on top.