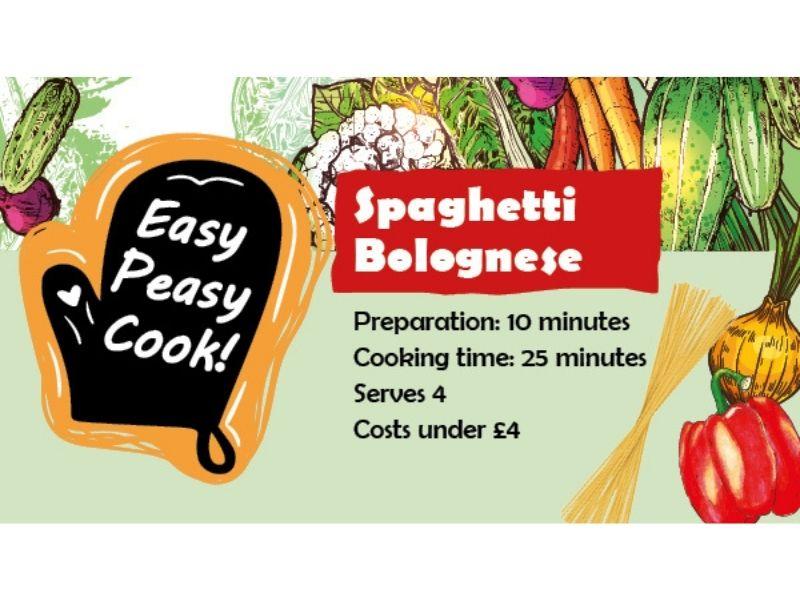 Preparation: 10 minutes

Cooking: 25 minutes

Serves 4, costs under £4
200g minced beef (lean)

2 onions (small sized)

2 garlic cloves

2 tins chopped tomatoes (800g)

2 teaspoons mixed herbs

1 red pepper

1 carrot

300g spaghetti

1 tablespoon vegetable oil

1 pinch ground black pepper
Allergy disclaimer: Always check the label of each ingredient for allergen information.
Peel and chop the onions, slice the red pepper and finely chop or crush garlic.

Heat the oil in a pan, then slowly brown the onion over a gentle heat.

Add the mince, stirring to stop it from sticking.

Add the remaining ingredients, apart from the spaghetti. Bring the sauce to the boil, cover and then lower the heat and simmer gently for 15- 20 minutes, giving it a stir now and again.

While that's cooking, bring a large pan of water to the boil, add the spaghetti and follow the instructions on the packet for cooking.

Add a pinch of black pepper to the sauce. Drain the spaghetti and serve with sauce.
Top tip: Serve with crusty bread and a side salad.
Top tip: If you make extra sauce and freeze it you can have it again on another day.
Top tip: You don't have to use spaghetti. If the kids prefer tubes or another type of pasta, use that instead.