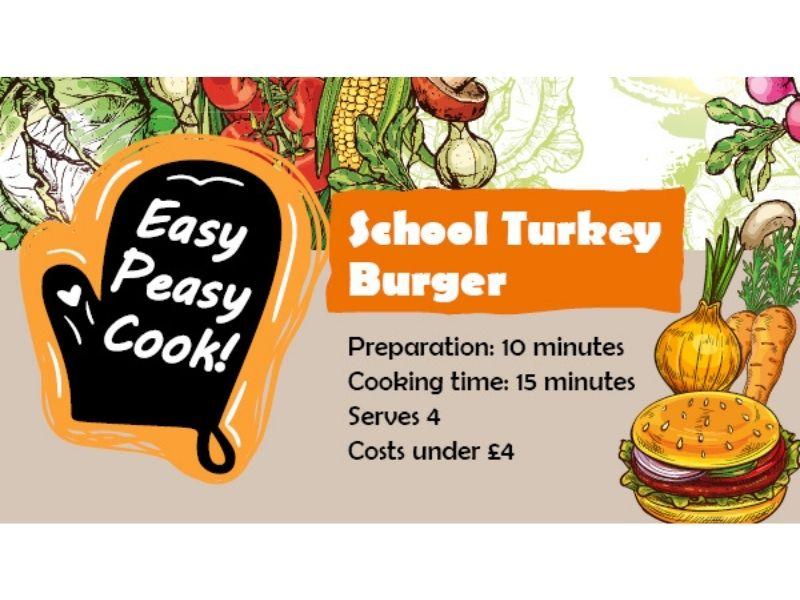 Preparation: 10 minutes (plus chilling time)

Cooking: 15 minutes

Serves 4, costs under £4
1 slice wholemeal bread

1 egg (beaten)

250g turkey breast mince

½ onion (finely grated)

1 carrot (finely grated)

2 cloves garlic (crushed)

1 pinch black pepper

4 burger buns
Allergy disclaimer: Always check the label of each ingredient for allergen information.
In a bowl, crumble the bread and add to the beaten egg. Set aside, but mix occasionally, until the bread has absorbed all the egg.

Add the turkey mince, finely chopped onion, finely grated carrot, crushed garlic and pinch of black pepper to the egg and bread and mix well.

Form into 4 burgers (8cm diameter and 2½cm thick) and put on a plate or tray, cover with cling film and place in the fridge for at least 20 minutes, but an hour or two is better.

Grill the burgers for 6-8 minutes on each side, ensuring they are fully cooked. 

Toast the buns and add your burger.
Top tip: Add any toppings that you like, such as lettuce, tomato, onion or any sauce.
Top tip: Why not try adding some chilli or cumin to the burgers to spice them up.
Top tip: Double the amounts and, once cooked and cooled, freeze the leftover burgers for a quick dinner option.