Free cycling courses
We are delighted to be able to offer free cycling-related courses to groups and individuals this year. Thanks to Smarter Choices, Smarter Places funding, cycling groups can apply for funding to run free courses to attract new members.
Groups or individuals who would like to learn to ride a bike, or improve their active travel or sports cycling skills will be matched up with trainers for free sessions. Email greenspaceprojects@northlan.gov.uk to let us know you are interested.
As part of the Strathclyde Park masterplan, the greenspace projects team are working with stakeholders and the local community to improve a currently underused entrance to the park in the Bellshill area.
The project is in the design stage and everyone can register for updates and get involved in shaping the plan by emailing greenspaceprojects@northlan.gov.uk
Draft designs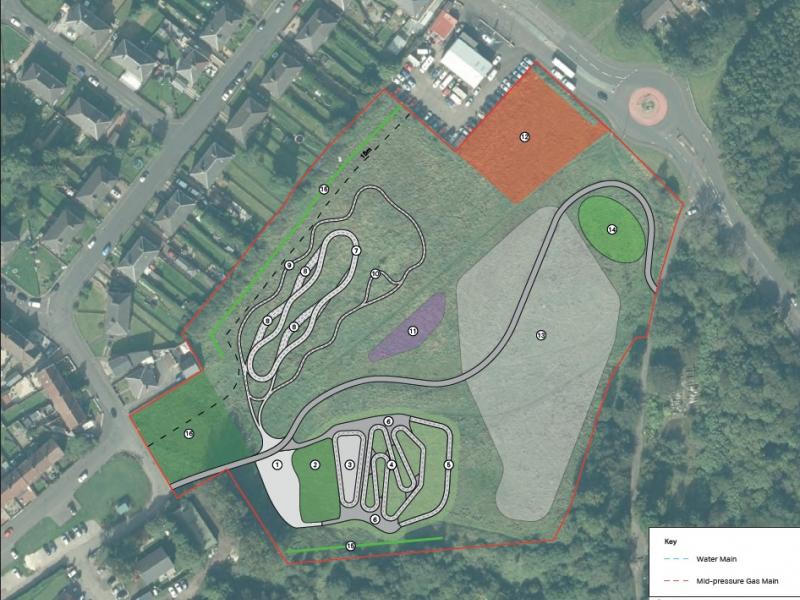 The new gateway will be the site of new cycle facilities, which form phase one of the Velo Park project. A draft design has been produced following several rounds of community consultation in 2021.
The draft design includes a pump track, a balance bike area, a jump line, trials bike area and mountain bike skills loops. There is a proposed car parking area, welcome zone, space for art and wildlife corridors, as well as a wildflower meadow which is also currently a popular sledging site in winter.
The whole project will link Bellshill to the lochside area of Strathclyde Country Park through upgraded routes for walking and cycling, signage/waymarking, seating, natural play, art and interpretation.
The gateway/hub will benefit from new bins, improved car parking, enhanced CCTV and biodiversity enhancement including hedges and wildflowers.
Work will start on site in 2022 and we encourage you to get involved in the project to share your thoughts and ideas by by emailing greenspaceprojects@northlan.gov.uk
Natural play survey
Thank you for your responses to our survey on natural play. Your views will help to shape the development of our new Bellshill Park Gateway project and we will post updates here as the design works progress.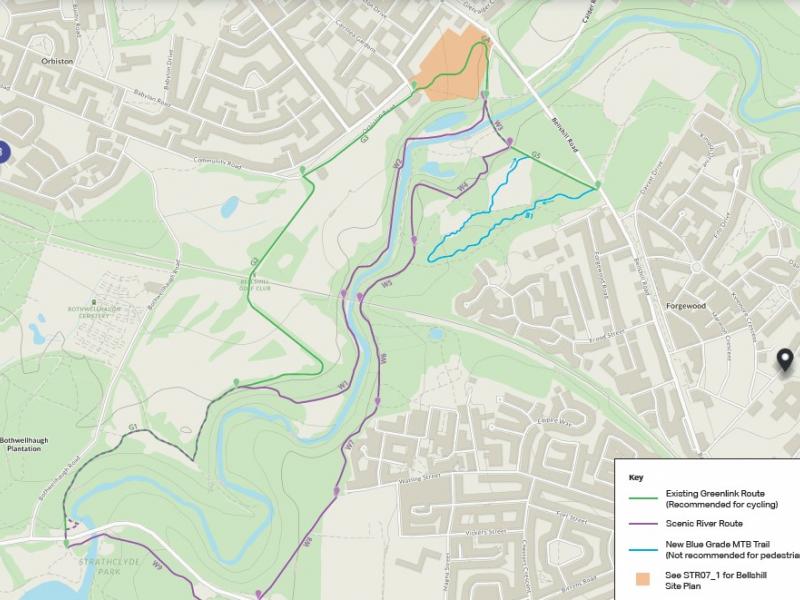 We are delighted that Sport Scotland has granted us £100,000 of funding to help develop the cycling facilities at Bellshill.
The Cycling Facilities Fund has been made possible through a £4million commitment of Capital funding from the Scottish Government and £4million of National Lottery funding from sportscotland. This significant investment in infrastructure is being delivered through a partnership between Scottish Cycling and sportscotland to ensure projects can have a lasting impact.