Introduction
Our secondary school week has changed.
We have introduced a fantastic range of activities on Friday afternoons for all secondary pupils.
The school week now finishes at 12.30pm on a Friday.
There will be no reduction to the key curriculum subjects and Monday to Thursday will run from 8:55am to 3:45pm.
In place of that extra period on a Friday afternoon, there are now a range of exciting opportunities, some of which many children and young people may never previously have had access to.
Even though learning has continued in a new way over the last year, young people will feel they have missed out on the social interaction at school, involvement in sport, creative channels and skills development.
The voluntary afternoon is an opportunity to make up 'lost time' in those areas, as well as gaining skills for learning, life and work.
The fresh and innovative programme spans the fields of employability, music, sport and arts, health and wellbeing, digital learning, outdoor education, and academic and leadership development.
These will give young people greater opportunities to be job-ready, independent, confident and better equipped for post-school experiences.
We already have partner organisations including VANL, Young Scot, SportScotland, New College Lanarkshire and Skills Development Scotland ready to deliver a range of exciting experiences for our young people to enjoy.
After all, it's your future, so grab opportunities while you can.
For more information, contact your school directly.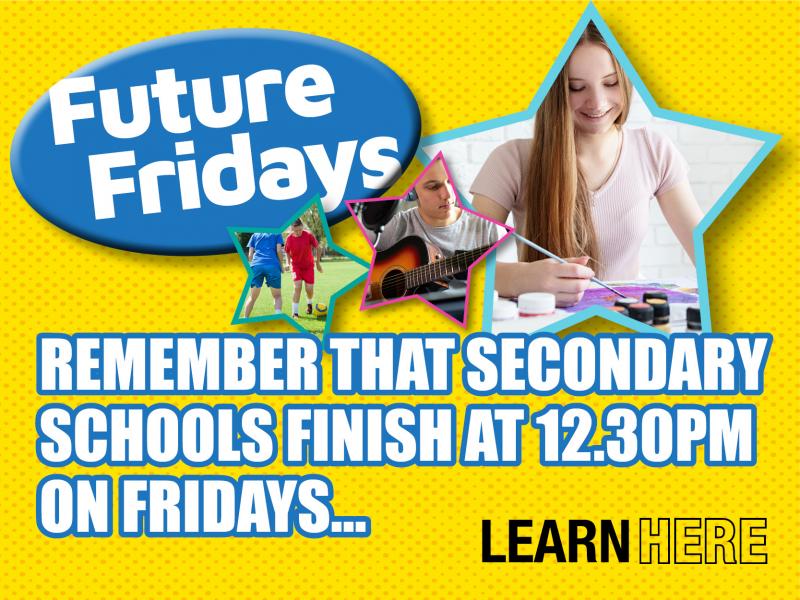 Future Fridays 32-period week brochure
Although the team is still working on the full programme of activities, take a look at our brochure for more information.