Help us keep North Lanarkshire clean
Did you know?
50 tonnes of litter are abandoned on Scotland's roadsides every month
82% of motorways and A-roads have litter on them
54% of litter on our streets comes from people eating and drinking on the go and discarding their litter inappropriately
In North Lanarkshire in 2021, the council 

collected over 1,700 tonnes of rubbish from street bins and litter picking
We're sure you'll agree – these figures are shocking?
That's why we're working with Keep Scotland Beautiful on a campaign to ask residents to dispose of their litter responsibly.
The campaign will be rolled out across North Lanarkshire, focussing on hot spots where roadside littering is a particular problem and around takeaways.
Our key message is simple – "Give your litter a lift; take it home."
There really is no excuse for litter, ever. Put it in a public bin or take it home and put it in your own bin.
We're pleased to have the support of McDonald's and Costa Coffee who'll also be promoting the campaign at their outlets across North Lanarkshire.
And remember, littering is an offence. Anyone caught dropping litter faces a fixed penalty of £80 or they could potentially be prosecuted and risk a fine of up to £2,500.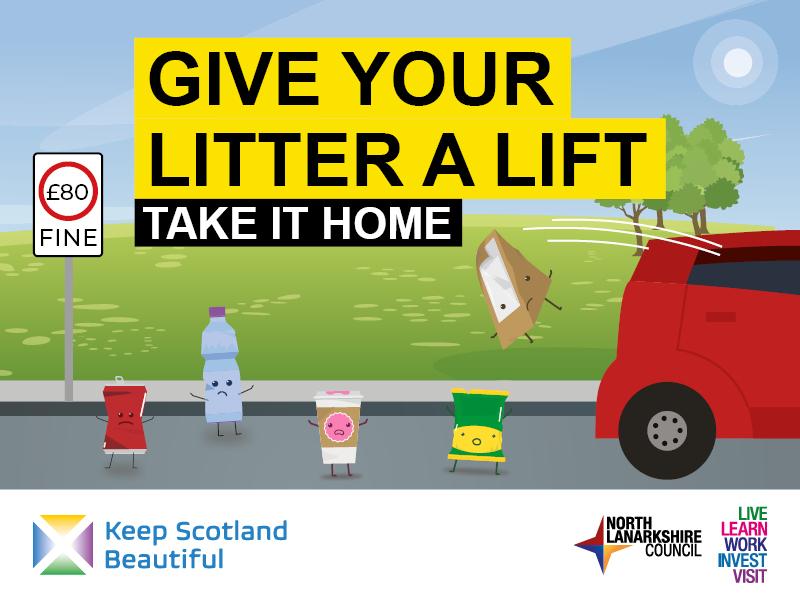 Give your litter a lift campaign