Ravenscraig Active Travel links
Contents
Meadowhead Road to O'Donnell Way - route description and design
At just over 1km in length this link runs north from 'The Castings' housing development off Meadowhead Road.
Plan showing the route of the Ravenscraig Active Travel Links
It follows the line of an existing former service path, to be resurfaced, through the woods before continuing downhill.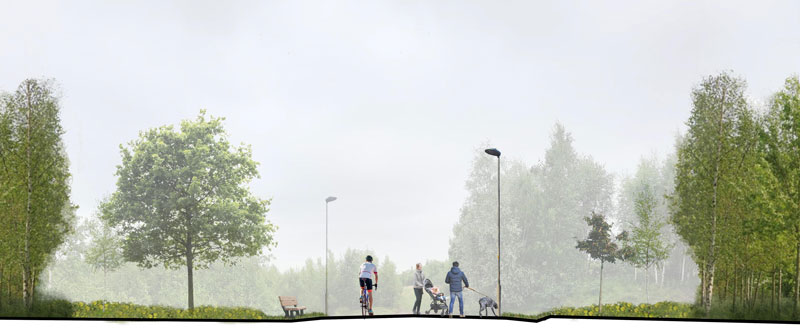 The path slopes as it drops down from Meadowhead Bridge while remaining open to people walking, cycling or wheeling, including those who use unpowered wheelchairs or other mobility aids. At the foot of the slope the site opens out and levels off on the approach to the new public park currently under construction. 
As the route continues north it merges with the new park to form its eastern edge before joining the existing cycle/footway on O'Donnell Way at the Regional Sports Facility.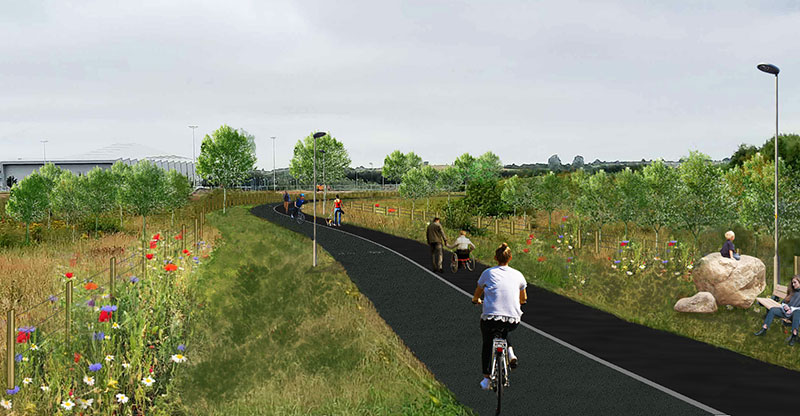 The proposed design includes the following elements:
Path: a 6-metre wide, surfaced path with a central line, contrasting surface tone and signage to  distinguish the cyclepath from the footpath

Lighting: street lighting columns spaced approximately 30m apart along the length of the route.

Seating: benches spaced approximately 150m apart along the length of the route other than in the steeper central section where benches will be positioned at the top and bottom of the slope, providing an opportunity to rest.

CCTV: the intention is to provide close circuit television (CCTV) where possible and appropriate with the number and spacing of cameras yet to be determined.

Landscaping: a grass verge to either side of the path with wildflower areas and woodland planting made up of native species to improve habitat for wildlife and enhance biodiversity. 

Additional tree planting: in order to open up the existing path through the woods some selective tree felling will be necessary. These trees will be replaced along with additional tree planting.

Play on the way: features such as wander paths, balancing beams, stepping stones and boulders to climb, to add interest to the route  and encourage children to play and explore nature as they travel along the way.

Gateway feature: the design of a feature at Meadowhead Bridge will be developed at the next stage of the project.

Fencing: a post and wire boundary fence along the length of the route.









Examples of play on the way features, wander paths, wildflowers and other elements on the route.