Free lunches and activities at weekends and during the school holidays.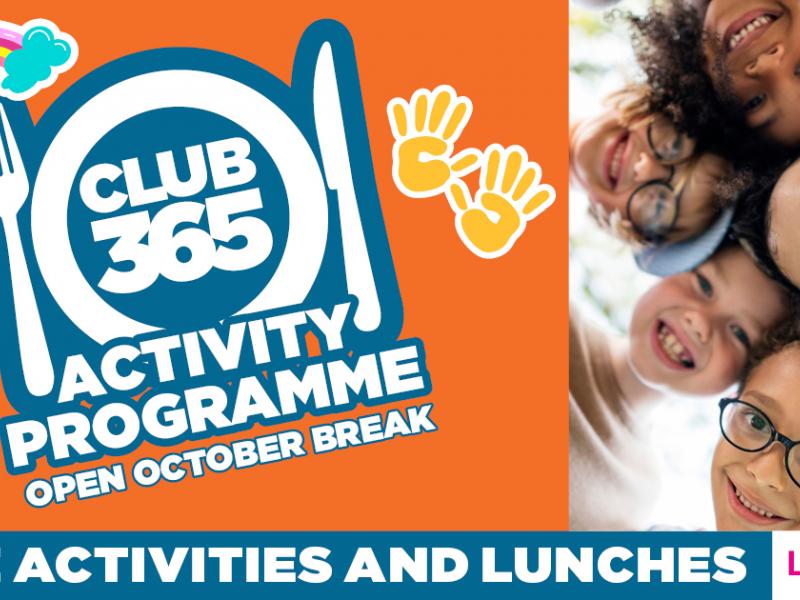 Club 365 is open at weekends and school holidays in our communities for primary pupils entitled to free school meals. 
It runs between 11.30am – 1.30pm and children can enjoy hot food and fun activities. There is no need to book —  children can just turn up on the day.
There are eight hubs operating every weekend (Saturday and Sundays) across North Lanarkshire.
During the  the October Week, the number of venues will be increased to 18.
October holiday venues
Saturday 9 to Sunday 17 October (inclusive)  
ASN provision for October 2021
Sports Activities

A range of activities are available for you to book now by phoning 01236 341969 (option 1) between 8:15am to 7:00pm Mon-Thur and 8:15am to 4:00pm Friday for bookings. 
If you call and leave messages over the weekend a member of the team will call back on the Monday.
ASN parent and child participation October Holiday programme is aimed at children aged P1 and above.
It's a fun sports activity programme which will be delivered by sports coaches who will cover a range of multisport activities in which both children and their parent or guardian can participate in together.  
The programme will be delivered between 11.30am-1.30pm Monday to Friday at the specific daily venues across NL.
Monday - 

Time Capsule -

 

Main Hall

Tuesday - 

Iain Nicolson -

 

Main Hall

Wednesday - 

Tryst - 

Main Hall

Thursday - 

Sir Matt Busby -

 

Main Hall

Friday - 

Ravenscraig - 

Athletics Track
Cinema tickets
In addition to this we have a limited number of cinema tickets available for showcase cinema, Barrbridge (next to Coatbridge). Tickets will be provided 1 adult and 1 child.
Activity passes
An October pass for pupils and families is now available and offers a range of activities from Arts & Crafts to Swim & Skate (See below). 
Museums Pass for Summerlee Museum of Industrial Life and North Lanarkshire Heritage Centre - pass for family of four (unlimited access – 11-15 October).
Arts & Crafts - range of activities available
Waterworld/Ice Skating at Time Capsule, Coatbridge - pass for family of four. Pass entitles to one visit to each.  Please note that ice is limited to 12pm and 3pm, Waterpark is open all day.
Lochview Golf Centre -100 balls at driving range - parent and child pass.
Lochview Golf Club - weekly pass for parent and child.
Weekend lunch menu - every Saturday and Sunday
Lunches involve of a main course and side dish including:  
Nuggets, potato wedges and beans

Mince and tatties with carrots
Pasta of the day with garlic bread
Beef burger with a bun, side salad and coleslaw
Link sausage, mashed potato and baked beans
Chicken curry with rice and naan bread

Fish fingers, potato and peas or beetroot
Vegetarian options are available.

The menu also includes two choices of dessert. This could be a piece of fruit, yoghurt or cake, to name a few.