Free lunches and activities at weekends and school holidays.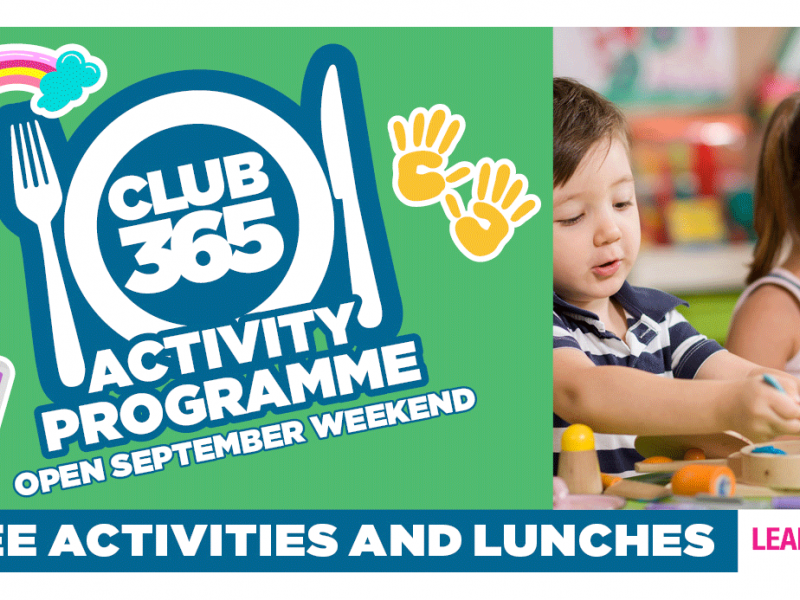 Club 365 is open at weekends and school holidays in our communities for primary pupils entitled to free school meals. 
It runs between 11.30am – 1.30pm and children can enjoy hot food and fun activities. There is no need to book —  children can just turn up on the day.
There are eight hubs operating every weekend (Saturday and Sundays) across North Lanarkshire and, during the September weekend and the October Week, the number of venues will be expanded to 18 to meet demand.
September Weekend and October break venues
Friday 24 to Monday 27 September (inclusive) then Saturday 9 to Sunday 17 October (inclusive)  
Weekend lunch menu - every Saturday and Sunday
Lunches involve of a main course and side dish including:  
Nuggets, potato wedges and beans

Mince and tatties with carrots
Pasta of the day with garlic bread
Beef burger with a bun, side salad and coleslaw
Link sausage, mashed potato and baked beans
Chicken curry with rice and naan bread

Fish fingers, potato and peas or beetroot
Vegetarian options are available.

The menu also includes two choices of dessert. This could be a piece of fruit, yoghurt or cake, to name a few.