How we keep North Lanarkshire moving during the winter.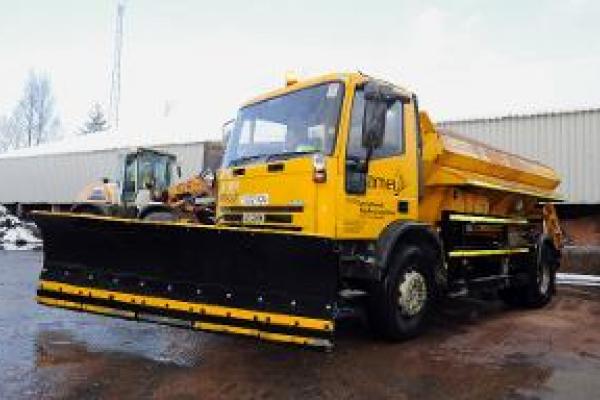 During winter we monitor the weather forecasts daily to decide if the road network needs to be treated with salt.
Weather and road conditions can vary significantly across North Lanarkshire so we may need to treat roads in one area but not another.
We cannot treat all roads at the same time so, with our partner Amey, we prioritise and treat according to our Winter Service Policy and Procedures.
Our first priority is to salt:
all 'A' and 'B' roads, main distributor roads and main roads around schools
major bus routes
town centres
access road to hospitals, ambulance depots, and key police and fire stations
When severe weather is forecast, these priority routes are usually treated with salt from 5.00am, before the morning peak and again in the evening, if freezing weather continues and road conditions require. If we have snow, these routes will be our priority to keep clear.
These routes cover 920 kilometres, 57% of our public road network and allow the majority of road users to travel across the council area and link with trunk roads and motorways.
Trunk roads
The A725T and A8T are trunk roads and along with the M73, M8, M80 and M74 motorways are the direct responsibility of the Scottish Government. Transport Scotland oversees maintenance of the trunk road network and motorways, including winter gritting and clearing. 
Footpaths
We have a similar system for treating footpaths. We prioritise:
urban shopping areas and precincts
main pedestrian routes linking homes, schools, shopping and industrial areas
Trunk roads and motorways (the M8, M73, M74) are the responsibility of the Scottish Government. You can find live information on the motorway network at Traffic Scotland.
Grit bins
There are over 2,400 grit bins across North Lanarkshire and these are topped up at the beginning of the winter period then refilled on a reactive basis.
We would ask residents to use these to keep local paths and streets clear and safe, and to help elderly neighbours who might not be able to clear the paths adjacent to their own properties.
Salt and how it works
We use rock salt, which looks like light brown gravel, to treat roads and paths.
The salt works by reducing the temperature at which water freezes so it can prevent ice forming on the road surface.
Once it is spread on the road or footway surface it needs traffic on it to help in freezing conditions, and is effective at temperatures as low as -7 degrees centigrade. It is less effective down to -10 degrees, after which it does not work.
On a dry road, salt can be effective for a considerable time and we may not need to retreat the road even if there is a light frost.
Even if a road has been treated with salt, it can still freeze. For example, if it rains after we have salted the road, the water can wash the salt off.
Salt will not stop snow lying on roads, unless it is very light. So when it snows, we need to use snow ploughs to clear the snow then treat the road with salt. In very heavy snow conditions, we may add coarse materials, such as sand, to the salt to give traction for vehicles wheels and to help break up snow layers.
Residents can pick up small quantities of salt using their own container to treat their local streets from local grit bins or our Recycling Centres at:
Airdrie - Lady Anne Crescent
Bellshill - Reema Road
Coatbridge - Stobcross Street
Cumbernauld - Wardpark Road, Wardpark Industrial Estate,
Shotts - Foundry Road
Wishaw - Netherhall Road, Netherton Industrial Estate, Netherton
Winter services documents