Progress update
First major milestone in creating new link between Motherwell and Ravenscraig achieved completed with new rail bridge.
Our partners at Network Rail and Story Contracting successfully completed the installation of the new bridge under the West Coast Main Line railway into position during April and have begun advanced works for the new road and foot/cycle ways.
Improving access through Ravenscraig
Contents
Ravenscraig Access Infrastructure South
We're creating a new road link and pedestrian and cycle paths into Ravenscraig and making improvements to Airbles Road.
These proposals provide new road and active travel routes, and make improvements to existing, to support the development and regeneration of Ravenscraig.
Following completion of the bridge installation, Story Contracting have begun advanced works for the new road and foot/cycle paths that will connect Motherwell and Ravenscraig.
Alongside this, we have published the documents to appoint a main contractor to create the new road link between Motherwell and Ravenscraig including the junctions, crossings, and paths. We aim to appoint the contractor during the autumn with preparations for works beginning later this year and with works commencing early in 2024. We will publish details of the contractor's programme of work once they have been appointed.
What we have permission to do
Between Motherwell and Ravenscraig 
Create a new road
The proposed new dual carriageway will join the existing road at the Ravenscraig Regional Sports Facility and connect with Motherwell.
The new road will include a new roundabout to provide access to future development areas in Ravenscraig. The speed limit on the dual carriageway within Ravenscraig will be 40 miles per hour, dropping to 30 miles per hour at the railway line and on into Motherwell.
As the new road approaches Windmillhill Street, it will cross Orbiston Street and there will be access to this from the dual carriageway from left in/left out junctions.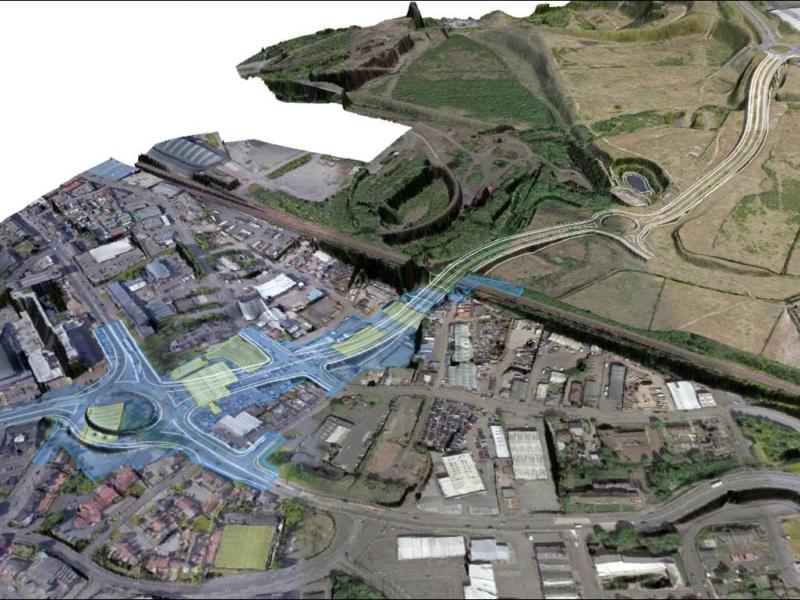 Provide a bridge across the railway line
The new dual carriageway road will go under the railway line and not go over it.
We have worked closely with Network Rail to develop the proposals for the bridge, and we think it is the best option.
This means there will be a much smaller structure that will have less impact on the area and create a better route for walking, cycling and wheeling.
Create a new roundabout at Windmillhill Street
The new roundabout is much bigger than the existing roundabout. This is because of the level of traffic expected in the future and to enable safe movements of all vehicles including heavy goods vehicles.
The speed limit on this road is proposed to remain at 30 miles per hour.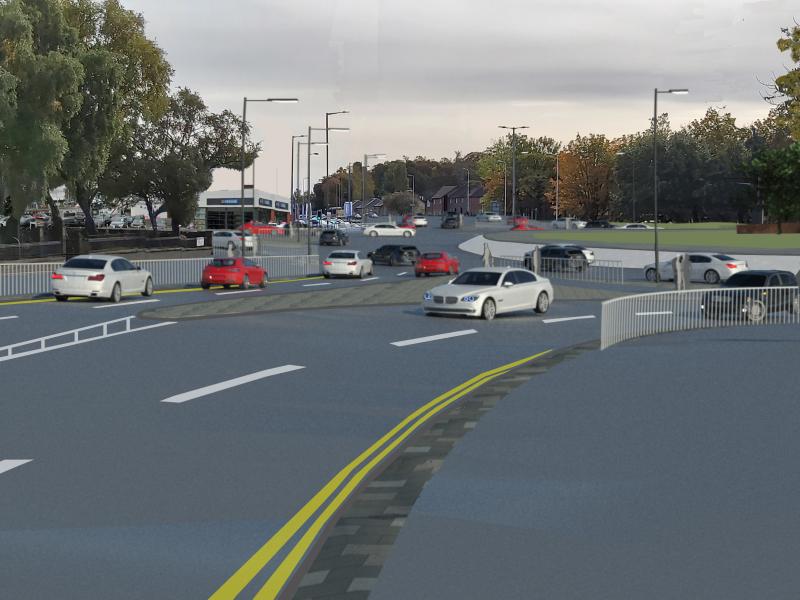 Walking, cycling and wheeling
There will be shared use footways/cycleways along the new and improved sections of road and these will connect to both the existing and new paths that are part of the Ravenscraig Masterplan to enable active travel throughout the area.
Completing the dualling of Airbles Road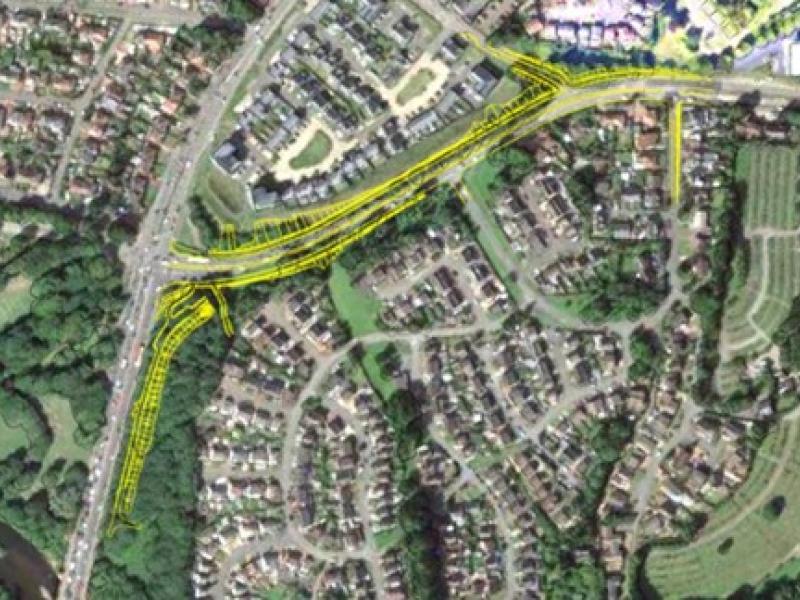 Our proposals for improvements to the western end of Airbles Road include:
Completing the dualling of Airbles Road between Airbles Farm Road and Hamilton Road to create a dual carriageway including central reserve and improving the capacity and safety of the left turn from Airbles Road to Hamilton Road with an increase in the radius of the corner.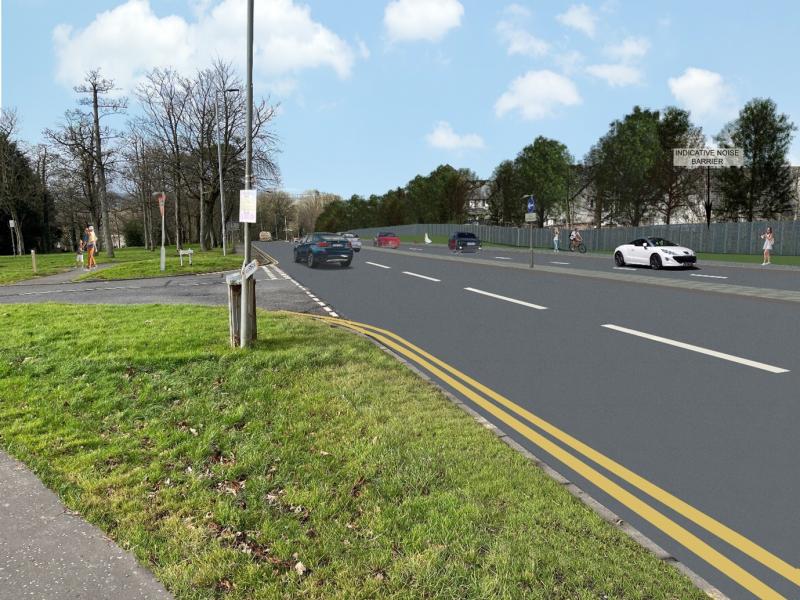 Providing controlled toucan crossing for pedestrian and cyclists crossings at the junction with Hamilton Road.

Fully signalising the junction with Airbles Farm Road and providing a new toucan crossing.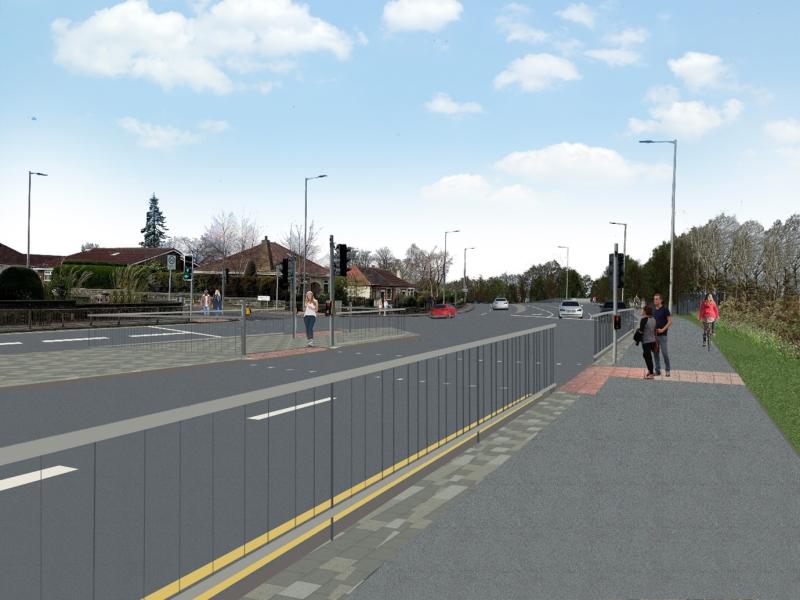 Improving footways/cycleways including providing a new shared footway/cycleway on the north side of Airbles Road from Tinkers Lane to Hamilton Road.
The closeness of junctions and available land means that for road safety we propose to no longer allow vehicles to turn right out of Greenaces on to Airbles Road or for vehicles to turn right from Airbles Road on to Greenacres. Road users who want to head east on Airbles Road will instead join Airbles Road from Airbles Farm Road.
Similarly, we propose to no longer allow vehicles to turn left or right out of Tinkers Lane onto Airbles Road or for vehicles to turn right from Airbles Road onto Tinkers Lane. Road users who want to join Hamilton Road to head towards Hamilton or the motorway will instead join Hamilton Road at the north end of Tinkers Lane.
The works to mitigate the impacts of the proposed works include noise acoustic barriers on the north side of Airbles Road.
Find out more
You might also be interested in finding out about RAI North.
We recommend you sign up to our email alerts as the best way to keep up-to-date on the RAI South project.